History
Cuntz Guitars
2022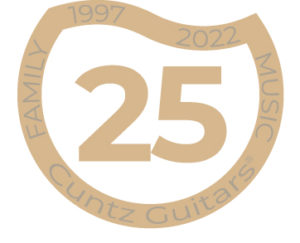 2021
For the 10th anniversary of MIKE DAWES' fingerstyle cover "Somebody that I used to know" Mike Dawes has re-recorded his arrangement – together with TOMMY EMMANUEL and his new CUNTZ CWG23sH Koa M "Mike Dawes II 2021" model.
Preparations for the 25th Anniversary year and hopefully a catch-up date for the GITARRENZAUBER 2020.
2020
Digitalisation is taking a few steps forward: digital online interviews and events like guitar-Podcaster and the GUITAR SUMMIT webcamp. Together with MIKE DAWES, I present Mike Dawes' new second guitar with a completely new pickup system in the live stream. Shortly before, Mike Dawes caused a stir on the web with his fingerstyle cover of Eddie Van Halen's "JUMP" and attracted attention with his CWG23 Mike Dawes Model 2015.
Lukas Schmidt, master guitar builder and Bachelor of Arts musical instrument maker, joins me as a new employee and supports me with new construction and repairs.
2019
After the changeover to GOTOH tuning machines, these are now manufactured in Japan with CUNTZ branding.
At the GUITAR SUMMIT PETTERI SARIOLA will present CUNTZ Guitars® and HUGHES & KETTNER acoustic amplifiers on all stages.
2018
After 12 years of distributing SCHATTEN DESIGN pickups, I meet Les Schatten for the second time – this time in his home Waterloo, Ontario, Canada and we start working on a new pickup system for Mike Dawes, among others.
As an exhibitor at the GUITAR SUMMIT Mannheim.
2017
A new guitar show causes a sensation: the GUITAR SUMMIT in Mannheim. The CUNTZ exhibition guitars are reserved and sold in a short time thanks to the international as well as regional audience.
2016
After 10 years of being neighbours at the fair with my colleague and friend Joe Striebel and now that the Musikmesse is no longer held, 10 limited edition ukuleles are created – thanks to DHL despite the fact that Joe Striebel and I work together in separate locations. They will be strung and presented together at the GITARRENZAUBER.
As an exhibitor at the HOLY GRAIL GUITAR SHOW Berlin, for the third year in a row.
2015
After 10 years at Musikmesse, this is my last time exhibiting at Musikmesse 2015. Booth neighbour Joe Striebel, unnoticed for hours, adds a "10-year fair friendship ukulele" to my booth inventory – "guitars made by ghosts".
After long planning and short building time, Mike Dawes holds his CWG23s+ IndianRose 'Mike Dawes Signature`Model in his hands for the first time on the GITARRENZAUBER stage.
As an exhibitor at the HOLY GRAIL GUITAR SHOW Berlin.
2014
CUNTZ Guitars® and SCHATTEN DESIGN pickups are available from Europe's largest music store thomann as an authorised dealer.
As an exhibitor at the HOLY GRAIL GUITAR SHOW Berlin. As a special exhibition guitar: the CUNTZ CWG 23 Ebony Custom "Holy Grail" made of solid Cameroon ebony for back and sides, bowed armrest top, veneered neck, mother-of-pearl inlays.
2013
PETTERI SARIOLA brings his friend and fellow musician MIKE DAWES to the GITARRENZAUBER Festival – it turns out that Mike's "first gig outside of England" will be the starting signal for a non-stop tour and a great musician's career.
David Jünger, master guitar builder and Bachelor of Arts musical instrument maker, supports me in the workshop as a co-worker.
The EGB is founded in Berlin and preparations are made for the first HOLY GRAIL GUITAR SHOW.
2012
In the repairs section, TAYLOR GUITARS awards me the "Customer Service Center Germany" with GOLD status – since then, service repairs (including warranty processing) for Taylor Guitars have been carried out by me in particularly close cooperation and prioritised spare parts delivery.
Shooting for an image film of the German Junior Craftsmen in Berlin with me in the leading role! With Jens Mahla (guitar) and the fantastic cameraman Dieter Michael Grohmann.
2011
CWG23 "session" models exclusively for SESSION music Walldorf (until 2013).
Three years after the MARIE, the CWG-2 PENELOPE comes along: designed as a smaller parlor-size guitar like the MARIE, but in the typical style of the CWG23 models.
2010
Exclusive pre-release of MARTIN HARLEY's 4th album to the GITARRENZAUBER. The GITARRENZAUBER gets sound and P.A. support from FARMSOUND Armin Engelhard and AER.
2009
The HISCOX cases supplied with each CUNTZ CWG23 receive the CUNTZ logo branding.
PETTERI SARIOLA is presented with his second guitar at the MUSIKMESSE Frankfurt: the CUNTZ CWG23s PETTERI SARIOLA model with elaborate mother-of-pearl SARIOLA logo inlay, revised electronics with 5 pickups and multicore output. This guitar will become his main instrument in the years to come.
ALEX AUER (Xavier Naidoo Band) goes on tour with the first CUNTZ eBodyNeck (electric Weissenborn lapsteel guitar) and MARTIN HARLEY tours with his CUNTZ BodyNeck Koa Custom Weissenborn in the support of JAMES MORRISON.
2008
PETTERI SARIOLA gets its first CUNTZ guitar: it's the CWG23s+ 10th Anniversary Tasmanian Blackwood, after two years of being captivated by my guitars at MUSIKMESSE meetings and intensive planning for a suitable pickup system.
The very traditional, smaller parlor-size model MARIE is added to the model range.
The new workshop in Riedstadt-Crumstadt is moved into. Here, repairs, modifications, new construction and emergency repairs are carried out on tour for, among others for Alex Auer (Xavier Naidoo Band), Stephan Zobeley (Herbert Grönemeyer Band), Laith AlDeen, Pavlov's Dog (David Surkamp, David Malachowski), Leonard Cohen, Pascal Kravetz (Udo Lindenberg Band), Carl Verheyen (Supertramp), Stephan Güte, Dieter Kociemba, Jonathan Böttcher, Andreas Schmid-Martelle, Jörg Schreiner, Ali Neander, Agustin Amigo, Peter Autschbach, Norbert Roschauer, Rolf Munkes, Manith Bertz, Jimmy Robinson, Zelia Fonseca, Andre Krengel, Jens Mahla, Christian Lehr and many, many more.
2007
Organisation of the first GITARRENZAUBER in cooperation with MUSIKKISTE Groß-Rohrheim e.V. following the Frankfurt MUSIC FAIR – the lasting contact with MARTIN HARLEY and PETTERI SARIOLA were decisive idea generators here. The annual GITARRENZAUBER will establish itself as a major event with 600 fascinated spectators (until the enforced Corona break).
ANDREAS KURDINAT, as a trained plucked instrument maker, becomes an employee.
2006
First participation as an exhibitor at the Musikmesse Frankfurt. In the next 10 years as an exhibitor (up to and including 2015) there will be countless personal and long-lasting contacts, e.g. with NEUVELLEAXE Masahiro Murayama (CUNTZ GUITARS® distributor in Japan), Fingerstyle China (CUNTZ GUITARS® distributor in China), Musikhaus thomann (authorised CUNTZ GUITARS® dealer Europe) as well as with Martin Harley, Petteri Sariola, Julian Dawson, Christina Lux, Steve Lukather (Toto), Nathan East (Toto, Eric Clapton Band, et al. a.), Greg Phillinganes (Eric Clapton Band), Don Alder, Jon Gomm, Steph Macleod, Mike Dawes, , Joscho Stephan, Tilmann Höhn, rohmann, Chatz Kostas, Andreas Thust, Thomas Fellow, Sönke Meinen, John Pearse, Misha Mansoor, Dave Goodman, Adam Rafferty, and many, many more…
MARTIN HARLEY gets his CUNTZ "BodyNeck" Koa Custom Weissenborn guitar as well as his CWG23s Oveng Std. with which he has been touring tirelessly ever since.
Installation and distribution of the Canadian SCHATTEN DESIGN pickups from Les Schatten. Company name of the distribution under "SCHATTEN DESIGN EUROPE".
Cooperation with SESSION Akustik Franz Schobert. In the next 6 years, almost all repairs and service work for SESSION were carried out by me.
2005
New headstock logo in the form of the soundhole silhouette as a mother-of-pearl inlay.
Creation of the first own website.
2002
First delivery of HISCOX cases for the CUNTZ CWG23 models. To this day, every CUNTZ guitar is delivered in the HISCOX PRO II case.
1999
Completion of the master craftsman's examination in guitar making. Master guitar: CWG23 12-String – 12-string steel guitar with the also typical straight string course on the machine heads. Leadership of the title me. Andreas Cuntz – master guitar builder.First "BodyNeck" Weissenborn models with a traditional design based on the original Hermann Weissenborn lapsteel guitars of the 1920s. Optimised in sound and stability.First acoustic basses made to customer order in the style of the CWG23 models.
1997
Opening of the own workshop in Groß-Rohrheim. Repair work of all kinds on acoustic and electric guitars and basses, construction of my own CUNTZ CWG23 models. The FIRST repair customer who entrusted me with his instrument became a trusted friend over the next few years and was largely responsible for the creation of the "BodyNeck Weissenborn" and "MARIE" models in the years to come. Without this happy start, the friendship with MARTIN HARLEY (see 2006) would never have come about.
1996
Completion of the journeyman's examination as a guitar maker with the award of the 1st Federal Prize of German Craftsmanship.
1995
Development and construction of the CWG23 guitar model with a straight string run from the nut to the machine heads – the resulting optimised tuning stability and even response of all strings characterise the CWG23 models to this day. The first prototype, No. 0001, is in the family's extended "23" that gives it its name.
1994
After graduating from high school and completing civilian service, beginning of training to become a instrument maker, among others at the state-recognised vocational school for violin making and guitar builders in Mittenwald/Germany.