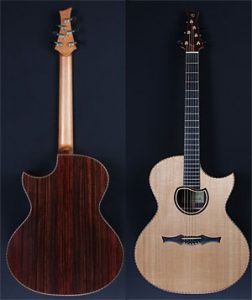 MIKE DAWES Indian Rose
Cuntz CWG 23 S+ M
2015
The basis for the Cuntz signature model "CWG23s+ IndianRose M ´MIKE DAWES`" is the CWG 23s+ Indian Rose Custom.
The current TEST report of the model CWG23s+ IndianRose M `MIKE DAWES' from AKUSTIK GITARRE issue 1/2019 (Dec. 2018/Jan. 2019) is available for download!
"East Indian Rosewood" for back and sides is considered the traditional tonewood – warm yet differentiated tone.
Since 2007 we offer, although limited, in this model meanwhile 34-year-old seasoned Sitka spruce as top wood: a particularly fast played-in instrument is the result!
This combination has been awarded and tested several times: see "Akustik Gitarre" issue 5/06 as well as "Acoustic Magazine" issue 34/2009:
"You can really hear the meat in the upper-register notes and the Cuntz´s amazing balance really comes to the fore…"
Of course, all our rosewoods are certified and registered as free-trade old stock.
CWG23s+ Indian Rose M, Matte finish
CWG23s+ Indian Rose HGM, Matte finish, top & headstock high gloss
CWG23s+ Indian Rose HG Custom, high gloss finish
CWG23s+ Indian Rose Mod. `MIKE DAWES', reinforced top, soundhole shape optimized for magnetic pickups, without pickup
CWG23s+ Indian Rose Mod. `MIKE DAWES', reinforced top, soundhole shape optimized for magnetic pickups, with original MIKE DAWES pickup assembly/electronics
without surcharge: ALL models with GOTOH 510 machine heads, optional 1:18 or 1:21 gear ratio
(incl. case)
Back and sides: East Indian rosewood
Top: 33-year aged Sitka spruce
bracing: modified X, scalloped, tuned
Neck: 1-piece mahogany, matte finish
Fingerboard: ebony,flamed koa binding
Frets: Dunlop 6230
Headstock: rosewood, high gloss finish
New logo: ebony with mother of pearl inlay
Borders (head, fretboard, body): Koa, flamed
Bridge: Rosewood
Bridge pins: Ebony with mother-of-pearl inlay
Nut & bridge inlay: Vintage bone, bone with special gliding ability
Machine heads: Kluson gold / ebony wing
finish: high gloss
optional pickups: Schatten Design HFN-Artist, LR Baggs, AER AK-15 plus, B-Band, Fishman,…..
case: Hiscox
scale length: 650 mm
Neck width: 46 mm (nut), 56 mm (14th fret)
Neck thickness: 21 mm (1st fret), 23 mm (12th fret)
String spacing: 7.6 mm (nut), 10.4 mm (bridge)
String action: 1.75 < 2.25 mm at 12th fret
Handmade in Germany
Other versions/options on request.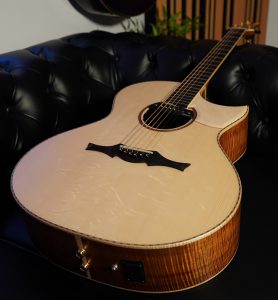 MIKE DAWES Koa
Cuntz CWG 23 S H
2020 Update
The 2020 update of the Mike Dawes CWG 23 with body in Koa and many optimizations.
After 5 years of non-stop touring with just one guitar, with his CWG23s+ IndianRose 'Mike Dawes', it was time for a second guitar for Mike Dawes who has often been awarded as "best acoustic guitarist" – with a few updates: the new "CWG23sH Koa 'Mike Dawes` 2020".
The depth of the body has been increased slightly and the choice of wood has been changed. Both together increase the purely acoustic properties in order to compensate for the loss of sound that a magnetic pickup in the sound hole causes acoustically (it closes a large part of the sound hole). As a result, the new Mike Dawes Model 2020 sounds as open and full as you would expect from any other Cuntz guitar, despite the sound hole pickup.
Two tuning machines for b' and e' have been replaced by Banjo D-Tuners for even more technical refinements
The internal electronics have been completely redesigned: with only one 9-V battery, ALL (four) pickups are now preamplified as active in the instrument at low impedance. In addition, a "high cut" (treble control) of the piezo element and an adjustable active low cut filter (filtering the bass to mid range) for the internal microphone are installed.
As with the IndianRose 'Mike Dawes' model, the sound hole is optimised for mounting the sound hole magnetic pickup in the position of the imaginary 24th fret.

On order we can also reproduce the original 'Mike Dawes' model.
I am at your disposal for questions and for the planning of your desired instrument.
Mike´s guitar LIVE on his latest LIVE album SHOWS AND DISTANCING
More information about the model:
Artists playing this model
Mike Dawes

England – UK

More
Be part of the family