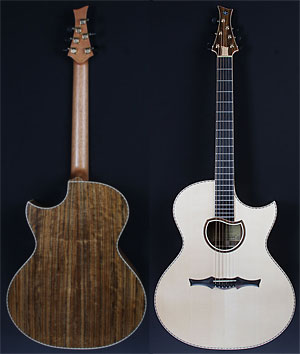 Petteri Sariola Ovengkol
Cuntz CWG 23 S HGM
2018
The basis for the Cuntz signature model "Cuntz CWG 23 Petteri Sariola" is the CWG 23s Oveng Std/Custom.
"Ovengkol" for back and sides is gaining more and more importance. Only selected grains are used in our custom models. The 'CWG23s Standard` is the version with complete matte finish. A stronger back arching gives the Standard model a modern, rocking punch and is the basis for PETTERI SARIOLA's Signature model.
TEST report of the model CWG23s Oveng HGM `Petteri Sariola' (Guitar Acoustic issue 6/2018) to download here.
CWG23s Oveng M, Matte finish
CWG23s Oveng HGM, matt finish, top & headstock high gloss
CWG23s Oveng HG Custom, high gloss finish
CWG23s Oveng Mod. 'PETTERI SARIOLA', reinforced top, without pickup
CWG23s Oveng Mod. `PETTERI SARIOLA', reinforced top, with original PETTERI SARIOLA pickups/electronics
Options:
other pickup assemblies (reduced/other),
SARIOLA fingerboard inlay
GOTOH 510 tuners with optional 1:18 or 1:21 ratio, others
CUNTZ CWG23s Oveng Std (matte)
CUNTZ CWG23s Oveng Custom (high gloss)
Back and sides: Ovengkol
Top: selected alpine spruce
Bracing: modified X, scalloped, tuned
Neck: 1-piece mahogany, matt finish
Fingerboard: ebony, maple binding
Frets: Dunlop 6230
Headstock: Ovengkol, high gloss lacquer finish
Logo: ebony with mother of pearl inlay
Edges (head, fingerboard, body): maple, fretted
Bridge: Ebony
Bridge pins: Ebony with mother-of-pearl inlay
Nut & bridge inlay: Vintage bone, bone with special gliding ability
Machine heads: KLUSON or GOTOH with ebony frets
finish: high gloss
optional pickups: Schatten Design HFN-Artist, AER AK-15 plus, B-Band, Fishman,…..
case: Hiscox
scale length: 650 mm
Neck width: 46 mm (nut), 56 mm (14th fret)
Neck thickness: 21 mm (1st fret), 23 mm (12th fret)
String spacing: 7.6 mm (nut), 10.4 mm (bridge)
String action: 1.75 < 2.25 mm at 12th fret
Handmade in Germany
Other versions/options on request.
Be part of the family
Artists playing this model
Petteri Sariola

Finland

More