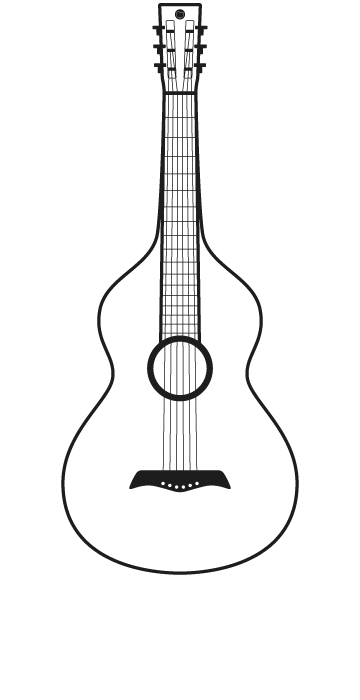 Cuntz CWB Akustik
Traditional Weissenborn® Style Acoustic Hawaiian/Slide Guitar
Stability and sound optimized replicas of 1920s Weissenborn® guitars.
Our BodyNeck models are directly based on the Weissenborn® models of the 1920s. By slightly modifying bracing, we bypass the weak points of these instruments, such as severe top slump and the "sagging" of notes above the 12th fret.
David Lindley:

"As loud as a Dobro, but warm as an old Weissenborn – Just great" (Back-Stage before his concert on 03/13/2003).

Guitar&Bass test in issue 01/05 (BodyNeck maple version):

"… Indeed, the maple guitar has what many lapsteel players wish for: Assertiveness (…) due to the exactly fitting sound spectrum, which stands out well from an acoustic ensemble with guitar, ukulele or bass. (…) you can get the sound Lindley calls 'larger than life' out of the BodyNeck. …"
Finishes:
Different head shapes (traditional head, window head, Cuntz head) are offered, as are different bridge shapes and rim inlays.
Individually optimized response, tone separation, dynamics, volume
630mm scale length
50mm nut width
Exclusively seasoned, solid and selected Koa tonewood (grained acacia, Hawaii) for top, back and sides
Top binding: modified X-bracing, scalloped, tuned
Hollow neck integrated into the body
Rosewood fingerboard
17 marked frets (wood inlays)
nut and bridge inlay: bone
Window head (other head shapes optional)
Lacquer finish (high gloss / matte) model dependent
Optional pickups
Gotoh SEP700 machine heads
Modified case included
Please note the special string offers for Weissenborn® guitars.
Handmade in Germany
Other versions/options on request.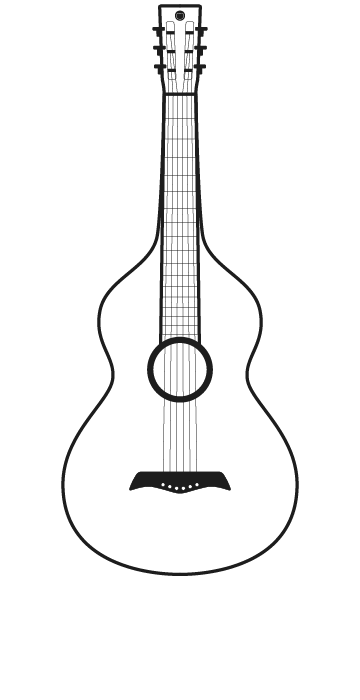 Cuntz CBW Electric
(BodyNeck)
The new eBodyNeck – actually "only" an electric LapSteel… Decisive for the development were Alex Auer, who wanted to use an electric version of a "Weissenborn" at Xavier Naidoo's live concerts, and Martin Harley, who produced his electric sounds live with a lot of technical effort until 2009.
What's new? – A small, handy instrument with acoustic elements! And not only visually: Hollow chambers, piezo sensors and the magnetic pickups developed together with Harry Häussel especially for this model series offer a unique sound variety!- and sustain without end…
Body: lightweight mahogany with hollow chambers and piezo sensors; body shaping (back) for comfortable and fixable playing on the lap
Fingerboard: ebony, maple binding
Head: classic window head; optional other head shapes
Bridge: ebony with bone inlay; "strings-through-body".
Nut & bridge inlay: vintage bone, bone with special glide ability
Machine heads: Gotoh gold / ebony fret
finish: closed matte; optional other (color) finishes
PickUps: 2x Harry Häussel Lap Custom HB, piezo sensors
Electronics: piezo preamp, "Noll" active MixPot, "Shadow" KillPot, 1x 9 V battery compartment (rear)
Operation: Volume with integrated "KillPot" circuit ("OFF" when tapping the volume knob), MixPot (for stepless control piezo – piezo+magnet – magnet pickup), active/passive switch (for pure magnetic/passive operation without battery), 5-way super switch (individual magnet sounds; split, out-of-phase, combination neck/bridge pickup)
scale length: 630 mm
string spacing: 8,8 mm (nut), 11,4 mm (bridge)
String action: 8 mm / parallel
Handmade in Germany
Other versions/options on request.
Individualization
Your very own Cuntz Guitar
All instruments from our workshop are made according to individual customer requirements.
There are hardly any limits to shapes, equipment and ornaments as well as to the determination of the sound characteristics.
You have a drawing/template – or just an idea?
We help you from the planning and the wood composition over conception and individual form adjustment up to the optimal hardware selection.
Handmade in Germany
Feel free to contact us:
Be part of the family
Artists playing this model
Martin Harley

England – UK

More
Alex Auer

Germany

More