Gitarrenzauber 2020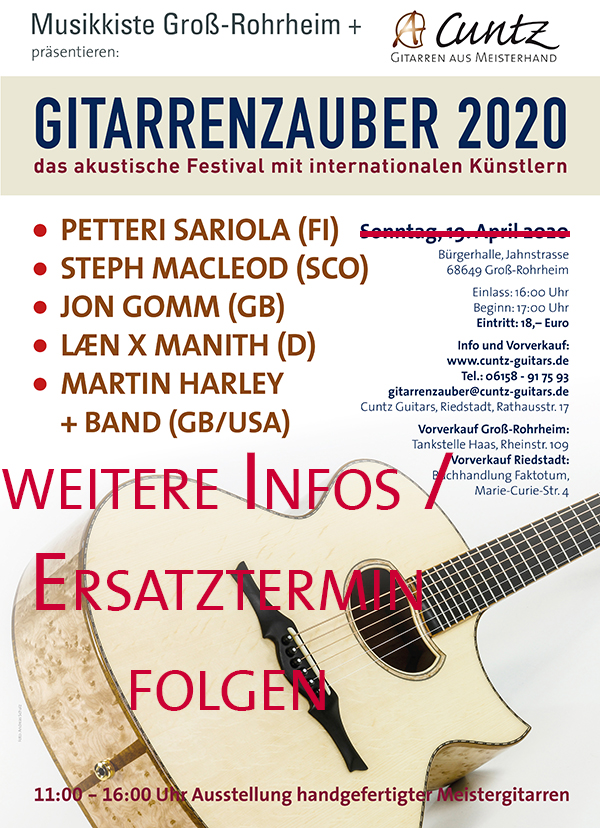 Cancellation
Unfortunately, like many other organizers, we have to cancel or postpone the 14th GITARRENZAUBER 2020 for the first time in its history.
We, the MUSIKKISTE Groß-Rohrheim e.V. in cooperation with CUNTZ GUITARS Andreas Cuntz master guitar builder, have been working voluntarily for 14 years for the GITARENZAUBER, among other things.
At this time we ask for your understanding that we cannot name an alternative date at this time. As things stand, the only prospect we have is to make a note of the weekend of April 24/25, 2021. There is a lot to re-organize and to discuss how we can deal with already incurred costs in a voluntary and fair way.
In order to inform everyone directly in case of further news, we recommend subscribing to the CUNTZ GUITARS newsletter at http://www.cuntz-guitars.de/de/newletter.
Until then, we encourage everyone to support the artists by buying albums. While banks have already been promised state aid without any applications being made, artists and organizers, the entire cultural life of the future, are currently left completely alone.
I THANK YOU for your understanding and trust, on behalf of the board MUSIKKISTE e.V. and drawing for CUNTZ GUITARS
your Andreas Cuntz.
GITARRENZAUBER 2020 on Sunday, April 19, 2020 with:
Jon Gomm (GB) – Steph Macleod (SCO) – Petteri Sariola (FI) – Martin Harley + Band (GB/USA) – LÆN X MANITH (D)

Bürgerhalle, Jahnstrasse, 68649 Gross-Rohrheim
Admission: 16:00 – Start: 17:00 (End approx. 21:00)

GITAR EXHIBITION 11:00 – 16:00
The exhibition for the Guitar Magic 2020
Marvel at and test exquisite master instruments in a pleasant atmosphere – a meeting place for lovers of the acoustic guitar. With guitars by master guitar builders Andreas Cuntz, Joe Striebel, David Jünger, Markus Quenzel…and more: successful author Wolfgang Meffert "Harmonielehre endlich verstehen" and "Effizient Üben" will also be there!
GITAR EXHIBITION – 11:00 – 16:00 – free admission
19.04.2020 – Small community hall
Entrance fee GITARENZAUBER: 18,00 Euro (plus 3,45 EUR shipping/online fee)
Tickets online at https://shop.cuntz-guitars.de/ or the local VVK points
Artists are linked – further detailed artist info's (German language) and press info's see box on the right – picture material on request.
With the BEST support from MUSIKKISTE Groß-Rohrheim e.V. – FARM-Sound Armin Engelhard – Sound-Engineer –  COMMUNIQUEATION Reinhard Helfert – CUNTZ GUITARS Andreas Cuntz
Additional PRE-SALE locations as of December 15, 2019:
Gross-Rohrheim: TANKSTELLE Haas, Rheinstr. 109
Riedstadt:
CUNTZ GUITARS, Rathausstr. 17 (Crumstadt).
Bookstore FAKTOTUM, Marie-Curie-Str. 4 (Wolfskehlen)
Questions regarding ticket orders should be sent to gitarrenzauber@cuntz-guitars.de.
Artists informations:
LÆN X MANITH (D)

Manith Bertz – the guitarist who is at the side of NAMIKA, YVONNE CATTERFELD and many others, with his own program – in DUO with LÆN
Steph MacLeod
Steph MacLeod – a story that moves and a voice that couldn't be more authentic! Begging on the streets of Edinburgh, at the bottom – then rehab, great faith and a guitar. Steph's gratitude for his new life in poignant performance – no "mission", but empathy live. After setbacks, the Scotsman is finally back at Gitarrenzauber 2017 – goosebumps guaranteed!
On February 13, 2006, Steph Macleod found himself in rehabilitation for homeless men with addiction problems. He had previously lived a hard life in Edinburgh, Scotland, begging on the streets to fund his addiction. During his 8-month rehabilitation, Steph began to address the issues that had caused him to repress and block out the world with substance and alcohol abuse.
Steph was once a promising classical guitar student at the 'Royal Scottish Academy of Music and Drama`, but personal problems from his teenage years, caused him to run away with alcohol and drugs. These problems continued to grow until they completely took over his daily life. During his 8-month rehabilitation, Steph picked up a guitar for the first time in years, and began writing songs about his experiences with substance abuse and homelessness. It was the first time Steph wrote songs and the first time he sang anything.
In the summer of 2006, Steph recorded six original songs in a studio on Easter Road Edinburgh, which he then posted on MySpace. The response to songs like 'Alcoholic Synonymous' and `Man in the cold' was overwhelming because so many people could relate to Steph's experiences. This gave Steph the motivation to get back on her feet. Steph found great comfort and healing in both song writing and his faith. After leaving the addiction center in Edinburgh, Steph continued to write music, and began performing in his local area. A year later, he had married and begun raising a family, which influenced his writing tremendously. He began networking with other musicians and music lovers over the Internet, and traveled widely to play at concerts and various festivals. With the help of friends and fellow students, Steph was able to record more and perform throughout the UK. By entering various competitions he was offered gigs at festivals such as `The Retrofest`, `The Belladrum Festival`, `The Wizard Festival` and `The Spratton Folk Festival`. He also applied to the Acoustic Singer/Songwriter competition and won it in Berlin in 2009. Steph's music has also been used in independent films and on television.
In recent years Steph has been touring as a solo singer/songwriter and also with his band `The Winney Shuffle`. The trio consists of Steph Macleod, bassist Dave Biddulph, and drummer Si Walker. `The Winney Shuffle` complement the intimate, personal, and honest-to-goodness character of Steph`s solo songs with powerful beats, addictive grooves to create an energetic performance.
Steph writes and performs music that is very much influenced by his faith. With the kind support of `Origin Scotland's Exile Band` he recorded a 12 song Christian album in 2009, which is a personal account of his journey in faith and its influence on his recovery from his alcohol and drug addiction. Steph has also worked with Christian organizations such as `Origin Scotland`, `Open Doors`, and the `Bethany Christian Trust`.
Over the past two years Steph has recorded his new album 'Kingdom Come' where he has collaborated with extraordinary talent including Stu Kennedy's, Cantica Alba's, Paul Burton's, Nigel Heath's to name a few. The highly acclaimed album has received airplay on BBC Radio 2, UCB TV and Premier Radio in England. Steph has also recently appeared on the BBC's Songs of Praise TV show.
Steph continues to tour the world, performing on stages such as that of the 3,500-seat Royal Concert Hall accompanied by a 40-piece orchestra, as well as in various prisons, such as in Northern Ireland and Poland, in schools (even in Uganda), in universities in Norway and Sweden, and other performances throughout Europe.
For the realization of the new album he is assisted by the winners of the GMA Dove Awards producer Scott and Ed Cash in Nashville USA.
PRESS:
BY TOM LENNIE Edinburgh native Steph(en) Macleod has a truly dramatic life story to share, ranging from homelessness, a mediocre life on the streets-just a few years ago-to happily starting a family, in a beautiful home. And filled with hope deeply rooted in faith in Jesus Christ. Steph shows his innate talent for writing and playing truly original 'ear-catching` music. A consequence of this is the production of this collection of twelve songs of his own writing. And what a superb production it is! With his vocals rooted completely in originality, Macleod's tunes, in such an eclectic variety of styles, draw attention to themselves in a way that renders any easy classification meaningless. While acoustic folk, country, soul and rock make their presence felt, a bluesy feel underpins the whole set. This style is most purely heard on "Snake Eyes," a 'nervous` sound that tells of the deadly lure of evil. While artful violin sounds, in a range of moods, can be heard out on the CD, Hammond organ, tasteful horns and the delicate voices of the background choir make appearances where needed. On its own, each track could command attention. Even the first song `Hope shines on` requires special attention – not least because of the strange vocal variety and uplifting intensity that finds its center. While an attitude of reverence accompanies `For your Glory`, `Hallelujah` is the best congregationally appropriate, simply infectious song Steph wrote for a friend`s wedding. 'Saved` is a short, acoustic piece, a simple testimony to Jesus Christ`s saving power. All of these songs are refreshingly free of cliché, perhaps because Steph is so young in faith, self-experienced and honest. Steph MacLeod presents a triumphant musical debut with wonderful twists of musical creativity.
The CD was received with rapturous enthusiasm by a large audience at Steph & Friends' first concert in Edinburgh. Judging by this reception, this musician should soon find widespread recognition.
Rivoltana – Youtube: "An excellent voice. A great talent. A beautiful person. Real pain, class songwriting and a bit of the charm of John Belushi: 'Can not fail!` Hoorah"
PETTERI SARIOLA
Petteri Sariola – a man like a band! And his development seems endless! In Groß-Rohrheim, the Finn with his own playing technique is always a highlight of the guitar magic. Also in 2017 he will inspire again with his percussive playing style and his lively stage presence. 12 live videos have been released in the last 12 months – the guitar magic may and could not be missing! For over 10 years now Petteri Sariola has been playing his worldwide concerts on his two custom-made CUNTZ CWG23 'Petteri Sariola Model` guitars.
"Petteri slams into the world!" – Not without reason the young Finn describes his style as 'slam`: He masters his aggressive solo guitar with technical perfection and a unique groove, which seems impossible to the listener to come from one instrument. Those who don`t trust their ears will take the live opportunity to take their eyes to help them….
Petteri Sariola's debut album "SILENCE!", released in the fall of 2007, literally "shocked" many guitarists with his talent. Guitar virtuoso Petteri Sariola's 2nd album "Phases" was released on October 7, 2009, and after a short time tracks were featured on Finnish radio and music TV.
"The last two busy years have deepened his playing, bringing new tones and themes to his songs. The new album takes a giant step towards rock, approaching the feel and adrenalin of live performance. There are now more vocal pieces, more electricity and more drive – without forgetting the softer moments. Different dimensions are also brought to the album by two band songs, almost entirely carried out within the Sariola family. Petteri's brother, producer Jyri Sariola who strongly influenced the birth of the album SILENCE!, plays drums and backing vocals are sung by his second cousin Heini Ikonen. Petteri's bass idol, Doug Wimbish, who has worked with the Rolling Stones, Madonna and member of Living Color, is also guest on the album! After listening to PHASES, you will surely agree that this talented instrumentalist has now grown into a brilliant writer and performer of his own songs."
In summer 2013, still inspired by GITARENZAUBER 2013, Petteri Sariola releases his 3rd solo album in Japan and tours Japan and England. The following years are also marked by concerts in Japan and Europe, among others with Andy McKee in London.
MARTIN HARLEY
Martin Harley – the man of the first hour of the 1st Guitar Magic may not be missing this year. His incomparable, whiskey-soaked voice paired with hypnotizing slide guitar playing. After long tours through USA and Europe now live again at Gitarrenzauber 2017! Since 2006 Martin Harley is always accompanied by his CUNTZ guitars: his CUNTZ 'Body Neck Koa Custom`Weissenborn, as well as his CUNTZ CWG23 Oveng Std.
http://www.martinharley.com/music/
Martin Harley tours inexhaustibly and has come a long way since Martin's first album – which he recorded and finished himself at home using a computer salvaged from the trash and flea market microphones. His music has crossed many paths. Tom Waits' management gave Harley the green light to release his rough suburban blues version of "Chocolate Jesus" (originally from Tom Waits' "Mule Variations" album). He's toured all over England with James Morrison and individual gigs in Europe, and has shared the stage with Kate Walsh and Scott Matthews, The Who and the late, and the great Bo Diddley, Alanis Morrisette and many others. His music has appeared on compilations alongside J.J.Cale, Paul Weller and Eric Clapton, and has played all the major festivals in England – from Glastonbury to Bestival. Radio fans join English radio legend Johnnie Walker, who described previous albums as "simply fantastic."
The story continues with " Drumrolls For Somersaults" – a wonderful fusion of styles, textures and instruments and the Martin Harley Band's strongest collection to date. An album that shines a spotlight on the band's wealth of experience, their excellent musical expertise and their talent to charm the audience with lyricism that is as vivid as their melodies. The release of this 4th album happened exclusively on the GITARRENZAUBER 2010 – with radio impact as far as Australia!!!
Martin's hunger to explore the world has taken him all over the globe – including some "wild" adventures: he lived in a car in Australia for a year, teaching himself to play slide guitar. He took a vow of silence and went to a monastery in Thailand for a few weeks. He rode an old "Enfield" motorcycle through Nepal and
played the world's highest gig, at more than 18,000 feet, to raise money for disadvantaged children there. The motorcycle ride allowed Harley to explore remote parts of Nepal, experience their traditional music and teach the locals some of his own tunes. It was also here that he got the opportunity to learn from some of Mali's great musicians, such as Bassekou Kouyate and Vieux Farka Touré, son of the world famous Ali Farkas Touré.
His latest album "Roll with the Puinches" was recorded with electric instruments – so it's only natural that we invited MARTIN HARLEY together with drums and bass to GITARENZAUBER 2020!
JON GOMM
Jon Gomm – meanwhile a LEGEND in the field of fingerstyle! Jon Gomm really fuses in musical terms – almost impossible playing techniques combine rhythm, harmonies, solo playing, clever effects, percussion and vocals! Welcome to GITARENZAUBER 2020!
More at www.jongomm.com